Monthly Archives:
January 2012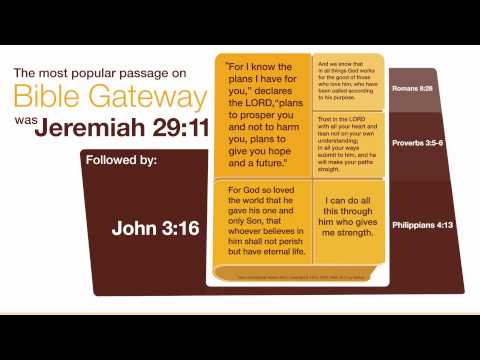 I thought this video from Biblegateway was pretty interesting. Not only does the music remind me of the soundtrack for "The Royal Tenenbaums" (which is always a good thing) but the section about which verses that were searched the most on Biblegateway in 2011 was particularly cool. Here they are in case you missed them:
Jeremiah 29:11
"For I know the plans I have for you," declares the LORD, "plans to prosper you and not to harm you, plans to give you hope and a future."
John 3:16
For God so loved the world that he gave his one and only Son, that whoever believes in him shall not perish but have eternal life.
Philippians 4:13
I can do all this through him who gives me strength.
Proverbs 3:5-6
Trust in the LORD with all your heart and lean not on your own understanding; in all your ways submit to him, and he will make your paths straight.
Romans 8:28
And we know that in all things God works for the good of those who love him, who have been called according to his purpose.
As a marketer I try to keep my eyes open for the "felt needs"  of people. In other words, I look for what it is about ____ that makes people want it. If Biblegateway's searches can be used as any sort of social-cultural barometer then I think we've stumbled on something: The felt needs that most often get people searching Biblegateway are likely buried in these verses. The felt needs people bring to these verses are probably something like: a need to know that God is in control; a need to know how to be saved (or to get to heaven, or to escape hell, or however you want to think about it); a need for encouragement from God during a time when strength is needed; a need for a reminder that God is wise; a need to know that God is in control (again).
God's sovereignty, salvation, God's strength, God's wisdom, and God's sovereignty again.
I wonder, by and large, do these needs match the needs of the folks in your congregation?
If so, how does the knowledge of these needs in your congregation affect how you go about doing ministry?